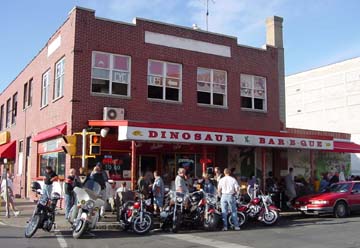 One of the best things about going to college in Upstate NY was its accessibility to one of the best barbeque joints on the planet,
Dinosaur Bar-B-Que
. The local rib and blues chain originated as a biker bar in Syracuse in the early '80's and has since opened outposts in Rochester, Harlem, and this coming summer in Troy, NY.
Grub Street
reports
that they're now considering an expansion to either Brooklyn or Queens:
Dinosaur Bar-B-Que is eyeing no fewer than seven new locations, from the New York metro area all the way to Boston. The chain is looking for "buildings with character," its real-estate developer wrote in an e-mail to Eater. Size is another consideration: Dinosaur requires 6,000 to 10,000 square feet of space.
We think this would be a
perfect fit
for Astoria/Long Island City. Your thoughts?
UPDATE:
Received this email from the owner:
Hi Ran
My name is john and I'm the owner/founder of dino bbq. Astoria is a place we'll be looking , I live on 146st in harlem and in the summer it's an easy motorcycle ride over for all that great greek food. Thanks again for your support!

john